Martial arts training, and especially taekwondo training, is an excellent activity for children to move around and not only develop their coordination but also positive social interactions through challenging exercises and games coupled with good manners. In addition to a safe environment, the Mount Shasta Martial Arts Program (MSMAP) strives to create a supportive and rewarding environment that invigorates the participants and refreshes their outlook towards many areas of their lives. Training with MSMAP enables participants to develop a positive attitude when facing challenges at home, school, and everywhere...and achieve really big things.


Discipline, Confidence, and Respect
The MSMAP training program is based upon "The 5 S's": self-training, self-discipline, self-defense, self-confidence, and self-respect. Emphasizing the The 5 S's, martial arts training becomes an activity that reinforces positive characteristics. For parents, "allowing your child to receive martial arts training is not opening up a door to violence, it is opening a door to building a solid foundation of self-esteem and confidence."Haley Participants are not learning mayhem. Through rigorous and consistent physical training, they instead learn a variety of skills including self-discipline and self-respect laying the foundation for the ability to conduct themselves well with others.

"The study of the martial arts holds great potential as a stabilizing factor in the lives of children. Ideal for all ages, it especially provides a unique opportunity for children to develop mind and body, to gain strength and integrity and to have fun."Martin <!img src="toggle.jpg" border="0" /> More...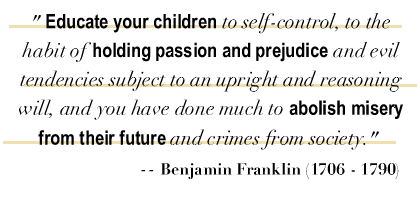 Play & Fun = Better Grades
Recent studies emphasize the benefits of letting children play and have fun through games and other physical activity.
"Amika Singh, a senior researcher at VU University in the Netherlands, reports in the Archives of Pediatric and Adolescent Medicine that physical activity is associated with better academic performance, as measured by higher GPAs and better scores on standardized tests....the studies showed that the more physical activity the children had, the higher their scores in school, particularly in the basic subjects of math, English and reading."Park, 2011
Active physical play can also help improve a child's emotional well-being. Children have energy — let them play to release that energy. Playing video games isn't the same thing as running, wrestling, or kicking.
"Active physical play can create the opportunity for tension release for your child. In fact, a very active child may carry emotional stress that drives his relentless energy. The laughter and physical bumping, wrestling, and knocking around that takes place during 'Special Time' help active children find a healthy outlet for the tensions that may have shifted their young systems into overdrive. Play, laughter, and the adult's permission to be oneself can heighten a child's sense of emotional safety."Wipfler
Other benefits of play and exercise include stronger muscles and bones; leaner body and less likely to become overweight; decreasing the risk of developing type 2 diabetes; possibly reducing blood pressure and blood cholesterol levels.Kids Health
Bullying & Self-Defense
Bullying takes on many forms including words, threats, and fists — physical violence (i.e., threats, pushing, hitting, more) to teasing/name-calling to spreading rumors, gossip, and lies. Online bullying, or "cyber bullying," using tools like text messaging , Facebook, and twitter is another very painful form of bullying.
"So what can a parent do to help protect their child when they are at the mall, out walking with a friend or waiting for the school bus? Simple, encourage them to enroll in a martial arts program and learn at least the basics of self-defense."Perry
Self-defense and anti-bullying strategies — in whatever form bullying takes — are key components to the curriculum of MSMAP. Our goal is to familiarize children with the idea that sometimes "wrong is wrong," recognize and acknowledge bad situations, and then to take steps to remove themselves from a bad situation, effectively and appropriately.
Even more, the instructors of MSMAP pay close attention to helping children and parents deal effectively with teasing and bullying. Although teasing is an unfortunate part of growing up, it "becomes bullying when it is repetitive or when there is a conscious intent to hurt another child" either verbally, psychologically, and/or physically.
The numbers are unsettling: an instance of bullying occurs in a school every seven minutes and 20-30% of school-age children are either a victim or a bully.Townsend-Butterworth In fact, "aggressive behavior and bullying are even more common in elementary school than in junior and senior high" and is most prevalent in second grade.DeHaan
Read our "Bully FAQ"
Get a better understanding of what bullies are, how they operate, how to tell if your child is being bullied, and what to do about it.
Go to: MSMAP's Bully FAQ
Read our "Teen Dating Violence FAQ"
For teens and their parents. This section helps teens and parents understand what teen dating violence is, how to prevent it, and how to get help.
Go to: MSMAP's Teen Dating Violence FAQ
Parents: The Power of a Good Example
In addition, one technique that MSMAP instructors apply and that parents can also apply is to be a good example of kindness and leadership. Children learn much from the adults around them (parents, family, friends, teachers, etc.). If parents have good manners, children can also learn good manners.

"Your kids learn a lot about power relationships from watching you. When you get angry at a waiter, a sales clerk, another driver on the road, or even your child, you have a great opportunity to model effective communication techniques. Don't blow it by blowing your top! Any time you speak to another person in a mean or abusive way, you're teaching your child that bullying is ok."Education.com <!img src="toggle.jpg" border="0" /> More...
Excellent Entertainment for Parents
Children 8 years of age and older are encouraged to try taekwondo for two weeks to decide if they like it or not. Children under 8 years old must be accompanied by a parent; the parent(s) can either watch or participate themselves. If participating, parents can do so for free. In fact, Mount Shasta Martial Arts encourages all parents to participate alongside their children.

According to Joyce Roberson, a martial arts expert and author of the "Karate for Kids' column, "If any parent is looking for very cheap entertainment for themselves, then karate is it! To see 15 to 20 4-, 5- and 6-year-olds lined up in their white uniforms, going through movements in unison and putting their heart into these efforts, can make a remarkable memory for any parent."Haley

The MSMAP Method Works
Sally Gasaway, former principal of Mount Shasta Elementary and Sisson Middle Schools, observes physically active children doing better in the classroom than their more sedentary peers.
"We have found that when students participate in physical activities throughout the day they are more focused and productive," said Gasaway. "Children need some form of physical activity everyday. They need to be taught breathing techniques and appropriate ways to respond to conflicts. Most importantly, they need to understand the physical changes that happen when anxiety levels rise, and they need to be taught a variety of methods to release that anxiety."
Gasaway said she has observed that "students who participate in MSMAP are well disciplined and respectful. They are conscious of how they are speaking to adults, and the appropriate way to respond to situations. Students respect themselves."
Mark Telles, former principal of Castle Rock School in Castella, agrees and sees the dramatic changes of children who participate in MSMAP firsthand.

"In some cases the changes in students have been like night and day," says Telles. "A number of our students have made remarkable changes in their behavior simply because they learned to be respectful toward others and in control of their actions and behaviors. I attribute this change in large part to the work they have done with MSMAP and to the atmosphere of respect in the program. The students seem to have a greater awareness of the world around them, and they exhibit a higher level of self-confidence. I have had a number of school staff comment on the changes they have seen in these students, and the students themselves demonstrate improved academic focus and significantly better social interaction."

Telles goes on to explain how students are able to make these positive changes.

"By being in regular communication with Chuck [Buhs, head instructor of MSMAP], I have been able to reinforce the lessons, values, and especially the quality of self-control he teaches his students," adds Telles. "Like all schools, we insist that students keep their hands and feet to themselves in order to avoid problems or conflicts. However, for some kids this is an abstract concept until they understand the value of self-control and learn that they have the ability to be aware of, and in control of, their actions and behaviors. This is an important part of what Chuck teaches and the results speak for themselves."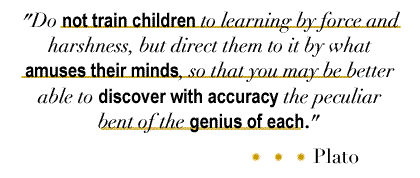 What Our Parents Say
Don't take our word for how well the MSMAP program works. Read what our parents have to say. <!img src="toggle.jpg" border="0" /> More...
Safety is Rule #1
Safety, safety, safety. The safety of all program members is the main priority. Children are not asked to do more than they are ready for and may opt out of any exercise if they feel uncomfortable. All training sessions are under the supervision of one of the MSMAP primary instructors who are attentive to the safety and well-being of the entire group.

Summary
Everyone can try taekwondo during a one-week trial period.
Children 7 years of age and younger must be accompanied by a parent during the trial period.
Safety is Rule #1.

Following the one-week trial period, children and parents must decide if they wish to continue. If no, no worries; thanks for stopping by. If yes, we look forward to many refreshing workouts.
Go to: Children and Taekwondo
Go to: Taekwondo and Self-Defense
Go to: Our Vision for a Better Community
Go to: The 5 S's
Go to: MSMAP's Bully FAQ
Go to: Tiny Tigers Photo Gallery (Action Photos!)



Go to: How to Join MSMAP

References
1. DeHaan, Laura, Ph.D. "Bullies". February, 1997.

Education.com. Ten Actions ALL Parents Can Take to Help Eliminate Bullying.

2. Flegenheimer, Matt. "Accusations of Bullying After Death of Teenager" The New York Times January 3, 2012.

2. Haley, Carma. "Karate Kids: Children and Martial Arts" Children Today

This is a test. "Kids and Exercise". Kids Health.

3. Hubert, Cynthia. "Granite Bay teen who committed suicide was bullied for being gay" The Sacramento Bee. January 15, 2012.

5. Khadaroo, Stacy Teicher. "Phoebe Prince bullies sentenced, but how do they make things right?" The Christian Science Monitor. May 5, 2011.

3. Lantz, Jim. "Family Development And The Martial Arts: A Phenomenological Study" Contemporary Family Therapy 2002; 24(4): 565-580

4. Law, David. "A Choice Theory Perspective on Children's Taekwondo" International Journal of Reality Therapy 2004; 24: 13-18

5. Martin, Michelle. "Kids Get a Kick Out of Martial Arts" Balanced Living Magazine 2004.

5. Miller, Carlin DeGuerin. "Phoebe Prince's Final Days: Bullied Girl Suffered 'Intolerable' Abuse Before Suicide, Say Court Docs" CBS News. April 9, 2010.

6. Park, Alice. Let the Kids Play: They'll Do Better in School Time.com, January 3, 2011.

7. Park, Alice. "The Long-Term Effects of Spanking" Time.com, May 3, 2010.

7. Perry, Tenna. "Fighting Back: Children in Martial Arts Save Lives" iParenting

8. Townsend-Butterworth, Diana. "Teasing and Bullying: No Laughing Matter: What you must know – even if you don't think it affects your child" Scholastic Parents

9. Twemlow, Stuart W., and Sacco, Frank C. "The application of traditional martial arts practice and theory to the treatment of violent adolescents" Adolescence 1998: Fall.

10. WebMD. "Bullying" 2009.

12. Wipfler, Patricia. "Helping the Very Active Child" Education.com