Currently, Yongin University offers comprehensive undergraduate degree programs with specialties in a variety of martial arts including yongmudo, taekwondo, judo, kumdo (Korean swordsmanship), ssirum (traditional Korean wrestling), boxing, and freestyle wrestling.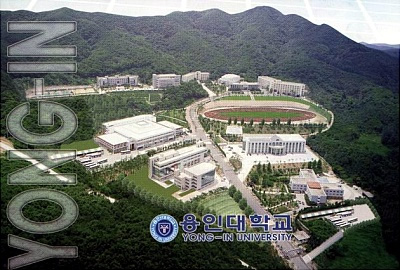 History. Self-defense techniques (ho shin sul) were popular extracurricular activities at Yongin since its founding in 1953. In 1976, the Combat Sports Department was created and hankido (yongmudo), kumdo, and ssirum were subjects included in the curriculum.
New Emphasis. In 1982, Yongin established the Martial Arts Research Center. "Its curriculum focuses on developing a new dynamic system combined of combat, self-defense, and health enhancement techniques and training methodology based on up-to-date scientific findings of human performance, especially through physiology, kinesiology, bio-mechanics and psychology."
Academic Departments. Today, the martial arts degree programs are organized within 10 departments that specialize in academic coursework and physical training in a variety of subjects:
Department of Judo
Department of Judo Instructor Education
Department of Combative Martial Arts Training
Department of Oriental Martial Arts
Department of Taekwondo
Department of Taekwondo Instructor Education
Department of Security Services
Department of Military Science.
Yongmudo Department. "The Department of Oriental Martial Arts is composed of fencing, dragon martial arts [yongmudo] and taekkyun. The fencing program has a world class-level of technique and the dragon martial arts informs the superiority of Korean dragons to the world. The taekkyun, as the only traditional martial arts that is designated an invisible cultural asset (No. 76), attempts to develop global martial arts. Those students who possess aptitude tests based on the specialized, systematic theory and practice as to become specialized instructors."
Source: http://int.yongin.ac.kr/eng/academics/ma04_oma.htm
Faculty. It is not uncommon for the Judo faculty to include three or more former Olympic gold medalists. Former world champions are on staff in the other martial disciplines. Most of the coaches and lecturers are former national team members and international medalists, ensuring that the level of all training and instruction is state-of-the-art.
Facilities & Location. There are more than ten dojangs, or, gymnasiums, spread across the campus providing excellent facilities for specialized training. With its peaceful mountain setting on Pua Mountain near the city of Yongin (approximately 30 miles south of Seoul), the campus offers an ideal natural environment.
The 2002 Yongin program guide defines the purpose for including martial disciplines as academic and athletic pursuits:
The Department of Eastern Martial Arts was founded to maintain a new literary system proving the cultural value and scientific characteristics of the martial arts after making a comparative study of traditional fighting and to contribute to the development of the field of fighting. (Yongin Handbook, p. 9)
5,000 students attend the university across five different colleges:
Physical Education
Fine Arts and Music
Natural Science
Liberal Arts.
President Jung-Haeng Kim, Ph.D. views the university's mission as assisting "its students in harmonizing knowledge and wisdom while fostering intellectual and social growth and preparing them for their future." Yongin "brings forth the best traditions that will open the new millenium."
Here are some interesting videos and articles to satisfy your curiosity.
Yongin Promotion Video
A brief video of Yongin University's martial art, Yongmudo, with English narration.
Source: http://www.youtube.com/watch?v=P4R1W9Q7DFc
Yong In College of Martial Arts
This is the official Yong In University web site (in English) and provides overviews of the four degree-granting martial arts programs.
http://www.yongin.ac.kr/yihome/eng/academic/ma.html
Judo Olympics 2012
Judokas ready to compete for Olympic gold
Korea.net | April 25, 2012
Since Kim Eui-tae took the bronze medal in the men's 80- kilogram middleweight division in the 1964 Tokyo Olympics, Korea has clinched nine gold, 14 silver, and 14 bronze medals, ranking third in the overall Olympic medal standings. This article describes how Korea qualified for all seven male weight divisions and ranked third in the world standings behind Japan and France prior to the 2012 London Olympics.
Korea 1999: Martial Arts Training & Cultural Excursion
An account of training at Yongin University: taekwondo, yongmudo, judo, ssirum, and more.