Bully Basics
Learn what bullying is, what cyberbullying is, and what is the difference between bullying and rough play.
Anything that is abusive or harmful to another person can be considered bullying. The Centers for Disease Control offer the following definition of bullying between youths:
"Bullying is any unwanted aggressive behavior(s) by another youth or group of youths who are not siblings or current dating partners* that involves an observed or perceived power imbalance and is repeated multiple times or is highly likely to be repeated. Bullying may inflict harm or distress on the targeted youth including physical, psychological, social, or educational harm."
Note: This definition of bullying excludes violence between siblings and partners within a dating or intimate relationship. Violence between peers is defined differently than the violence that occurs in these unique family and dating relationships.
Modes
Bullying takes on many forms through words, threats, and fists.
1
Direct. aggressive behavior(s) that occur in the presence of the targeted youth. Examples of direct aggression include but are not limited to face-to-face interaction, such as pushing the targeted youth or directing harmful written or verbal communication at a youth.
2
Indirect. aggressive behavior(s) that are not directly communicated to the targeted youth. Examples of indirect aggression include but are not limited to spreading false and/or harmful rumors or communicating harmful rumors electronically.
Types
Types of bullying behavior include:
1
Verbal. Taunting; name-calling; threatening or offensive written notes or hand gestures; inappropriate sexual comments; verbal threats.
2
Social. Isolation; spreading false and/or harmful rumors; publicly writing derogatory comments; posting embarrassing images in a physical or electronic space without permission or knowledge.
3
Physical. Physical force such as spitting, tripping, shoving, biting, hitting, kicking.
4
Cyber. Sending or posting embarrassing, hurtful, humiliating, and/or threatening comments, messages, pictures, or videos.
Characteristics
Bullying includes these four characteristics:
!
INTENTIONAL. The bully means to hurt your child, it is not an accident.
HARMFUL. Bullying can cause physical and/or emotional harm.
REPETITIVE. Not usually a one-time occurrence; children are often targeted due to the fact that the bully thinks they won't take action against them.
IMBALANCE OF POWER. The bully usually has a source of power over the child they choose to bully. It can be age, size, strength or social status.4
Online bullying, or "cyberbullying," is done through the internet with email, text messaging, chat rooms, social media sites, and other tools. It involves sending or posting embarrassing, hurtful, humiliating, and/or threatening comments, messages, pictures, or videos. Cyberbullying is more often done by older teens (ages 15+) but can be done by anyone under the age of 18 with a computer or cell phone hooked up to the internet.
"Nearly 43% of kids have been bullied online and almost one in four have had it happen more than once."5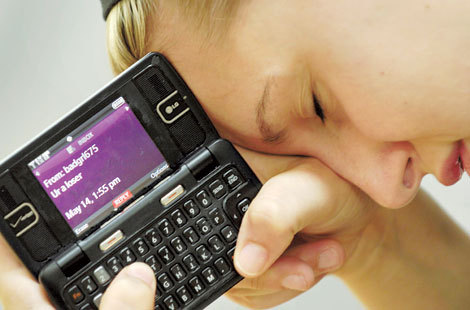 NOTE: Cyberbullying can only be done by two or more children or teens under 18 years old. When an adult is involved, this type of harassment becomes "cyberstalking."
Technology allows any bully with a cellphone to torment, embarass, harass, humiliate, and isolate their victims, 24/7. "Lauren Savage, a school counselor in Richmond, Virginia, noted, 'In the past when students were bullied at school they could at least seek the safety of their homes, but with cyberbullying the bully goes home with them.'"6
Anonymous Bullying
"Although the Internet allows for unbridled communication, it also seems to encourage a measure of mean-spiritedness. When students think they can remain anonymous, they are less inhibited in saying things they never would say to a person face-to-face...what makes cyberbullying so particularly hurtful is that the anonymity of the act often emboldens the person doing it and increases the fear factor for the victim."6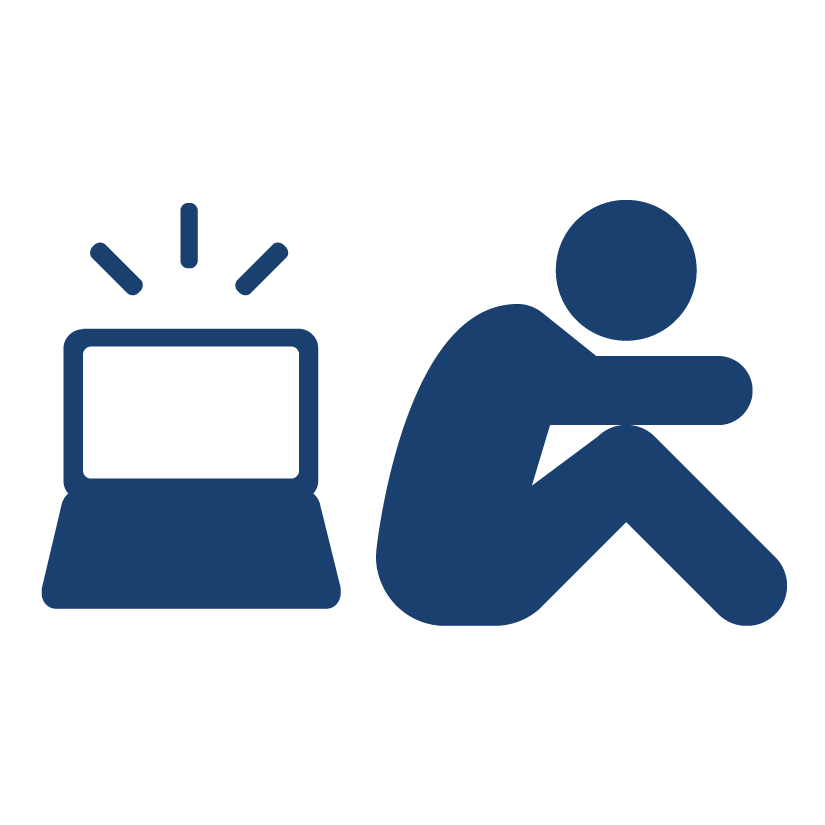 Certain software programs allow bullies to be be anonymous and leave the victim in the dark about who the bully truly is. Sometimes bullies will hack into another person's account or steal passwords and then post hurtful comments pretending to be the victim.
Methods of Cyberbullying
There are two primary methods of cyberbullying:
1
DIRECT ATTACKS. Messages sent to kids directly.
2
CYBERBULLYING BY PROXY. Using others to help cyberbully the victim, either with or without the accomplice's knowledge. Because cyberbullying by proxy often gets adults involved in the harassment, it is much more dangerous.7
Types of Cyberbullying
1
FLAMING. Sending angry, rude, or vulgar messages directed at a person or persons privately or to an online group.
2
HARASSMENT. Repeatedly sending a person offensive messages.
3
DENIGRATION. Sending or posting harmful, untrue, or cruel statements about a person to other people.
4
CYBERSTALKING. Harassment that includes threats of harm or is highly intimidating.
5
MASQUERADING. Pretending to be someone else and sending or posting material that makes that person look bad or places that person in potential danger.
6
OUTING and TRICKERY. Engaging in tricks to solicit embarrassing information about a person and then making that information public.
7
EXCLUSION. Actions that specifically and intentionally exclude a person from an online group, such as blocking a student from an IM buddies list.8
What to do?
Help your child stay safe online
Have "the technology talk".
Use parental settings wisely.
Friend your kids on social networks.
Be the holder of the passwords.
Don't let your teens sleep with their phones or computers.
Be a good role model.
Source: Six ways to keep teenagers safe online (Macworld, 8/30/13)
Helpful Resources
4 Steps to Stop Cyberbullying (video)
This is a great 5-minute video from Wellcast. Take a few minutes and see if there's any new information for you. And, download and print the "Cyberbullying Protection Guide".

Key Points for Protection
(highlights from the video)
2
When Cyberbullied, Don't Respond & Don't Retaliate.
3
Block the Bully If Possible.
4
Save the Information & Tell Someone.
What's the difference...?
...between bullying and rough play, teasing, or angry, mean behavior? Sometimes, it can be difficult to distinguish rough play or angry behavior from bullying. Although teasing might seem pretty tame in the whole scheme of things, there are some specifics that make it and other behaviors outright bullying.
The normal roughhouse play and silly and/or unconscious teasing that children and teens normally do can seem pretty mean sometimes, but in the case of bullying, a line is crossed from playful, silly, even harsh, fun among equals to something darker and more sinister. And, it occurs again and again and again and again.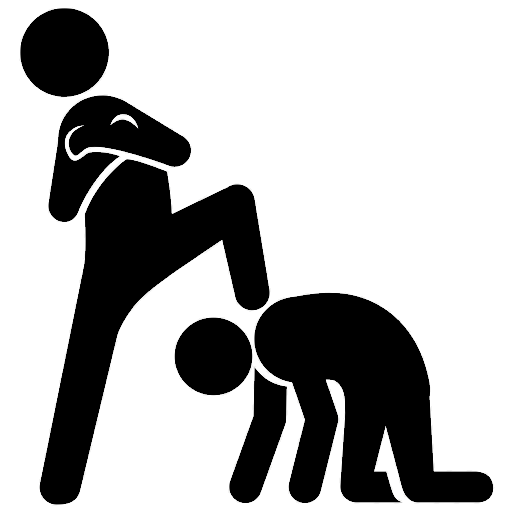 REMEMBER:

Bullying is intentional, harmful, and repetitive with an imbalance of power.

What is that line?

When there "is a forced imbalance of power and the bully wants [their victim] to feel powerless or helpless."9 In the case of teasing, it "becomes bullying when it is repetitive or when there is a conscious intent to hurt another child" either verbally, psychologically, and/or physically.9

Accidentally hurting someone's feelings through actions or words is not bullying. Accidentally injuring someone through carelessness is not bullying. One-time actions or words, no matter how angry or cruel, does not constitute bullying.

Although it can be difficult to know the intent of a person's actions, someone who persists in hurtful words or actions against another after being told that their words and actions are wrong shows a pretty clear intent for inflicting pain on others. That behavior begins to fall under the definition of bullying.

In other words, bullying is done by someone that makes it a point to repeatedly torment another person and that person feels powerless to defend themselves.
Effects & Examples
Learn to identify if your child is involved by bullying. Use these examples from news accounts and be encouraged to pay attention and take action.
There are many harmful effects of bullying aside from any physcial injuries. Many people feel that any physical injuries aren't as bad as the emotional distress. Any effects from childhood bullying can carry-over into adulthood.
Isolation
Whatever means a bully uses, a critical outcome is for the victim to feel alone — both physically and emotionally — to the point where the victim feels that friends and family cannot help them. This leads to a number of possible short-term and long-term effects.
Short-Term Effects
Greater incidence of illness
Lower grades than non-bullied peers
Anxious avoidance of settings in which bullying may occur.
Suicidal thoughts and feelings
Long-Term Effects
In a long-term study published in April 2015, researchers found that children who were victims of bullying by their peers "consistently showed an increased risk of young adult mental health problems such as anxiety, depression, and self-harm or suicidality whether or not they had a history of maltreatment by adults."Lereya, et al.
In other words, bullying leads to significant mental health issues and these finding highlight that bullying is much more devastating on a child's mental health than many people are aware.
Long-term effects of bullying include:
!
Reduced occupational opportunities
!
Lingering feelings of anger and bitterness, desire for revenge
!
Difficulty trusting people
!
Interpersonal difficulties, including fear and avoidance of new social situations
!
Increased tendency to be a loner
!
Perception of self as easy to victimize, overly sensitive, and thin-skinned
!
Self-esteem problems (don't think well of self)
!
Increased incidence of continued bullying and victimization11
...if my child is being bullied or bullying other children. Signs that a child is the victim of bullying can be confusing and mistaken for the normal emotional and hormonal changes that occur growing up. Three ways to learn if your child is being bullied include:
A
What are your eyes telling you?
Look at your child. Do you notice changes in their behavior or attitude?
B
What is your child telling you?
Speak with your child. What are they saying? What are they not saying?
C
What is your gut telling you?
As a parent, what do you sense? What does your intuition tell you? Listen to your gut.
A parent's job often becomes that of detective by piecing things together, bit by bit, over time to get an idea of what' really going on. Be persistent but be patient, also.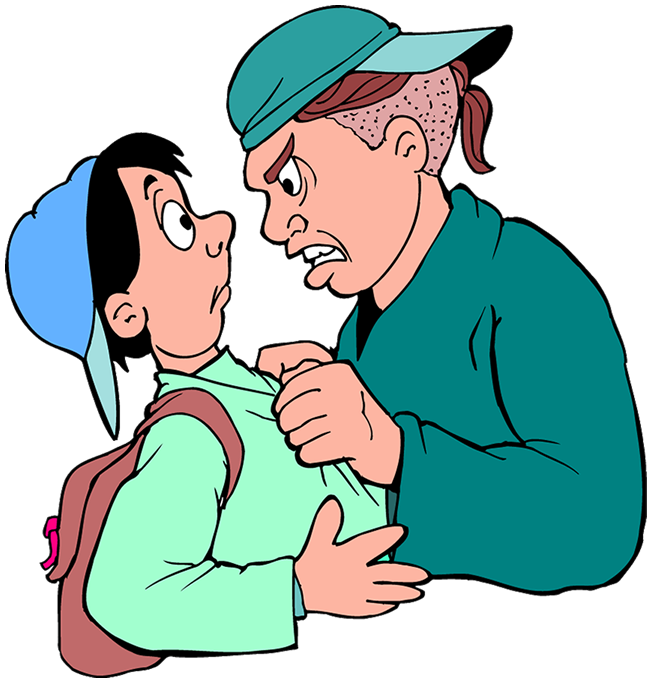 Signs of Bullying
These signs may indicate your child is being bullied:
Acting differently in general
Agitated and jumpy
Asking 'what if' questions, such as "What if I were home schooled?"
Avoiding eye contact
Crying, moody, depressed, angry
Difficulty sleeping, or sleeping more hours
Eating more or less than usual
Frequent complaints of sicknesses such as stomach aches and headaches
General anxiety about school and school events
Increased fighting with siblings and parents
Increased isolation in his room, or alone more frequently
Looking down frequently
More somber moods
Nightmares
Not wanting to participate in any sports or activities outside of school
Paranoid
Quieter in class, lunch, and recess
School work/grades are negatively affected
Shifts in online activity (large increases or reductions)
Skipping school and social events
Spending many hours reading or studying — even when other kids are around and being social10
Bullycide commonly refers to bullying that leads to the suicide of the victims. Bullycide can also refer to the killing of bullies by their victims.
For teens already uneasy about many things including how they are perceived as individuals by their peers, bullying creates even greater feelings of anxiety, humiliation, and isolation causing them to consider extreme reactions including harming themselves and even taking their own lives.
Sad Examples
The following examples of young lives no longer with us demonstrate how bullying can lead to heartbreaking consequences. Per the Centers for Disease Control, "Suicide is the second leading cause of death among youth age 15-24."
This section may contain details that are disturbing. If you or someone you know is having thoughts of suicide, please contact the National Suicide Prevention Lifeline at 988.
Adriana Kuch, 14, of Bayville, NJ, killed herself on February 3, 2023 two days after a 50-second video was recorded and posted online of her being attacked by other students in the hallway at Central Regional High School. The video shows the freshman being hit in the face with a full 20-ounce water bottle three times, being repeatedly punched and kicked and her hair being pulled while classmates laughed while recording the attack. She suffered multiple bruises on her face and legs as a result of the attack.
"I want the entire world to know what these animals did to my daughter," Adriana's father, Michael Kuch, said in regards to the video. In another interview, he shared that "I'm livid. I blame the [attacking] girls and the school and the cops. I want everyone to know what happened to her, I want justice, as much attention, so they can't ignore it."
The school initially suspended the four students involved in the attack. The Ocean County prosecutor's office later filed third-degree felony assault charges against four girls the following week: one student was charged with aggravated assault, two students with conspiracy to commit aggravated assault, and one student with harassment. The four students were subsequently expelled from the school.
Hundreds of students voiced their outrage at the administration over the handling of Kuch's case by walking out of classrooms a week after Adriana's bullying attack and within a week of her death. This was followed by a second walkout by students two days later again protesting and voicing their displeasure with how the school administration was handling this tragedy.
One day following Adriana"s memorial service, the supertintendant of Central Regional"s school district, Dr. Triantafillos Parlapanides, resigned on February 11. This follows statements he made in via email placing blame on Adriana and her father for her suicide.
Aaron Fuller, 13, of Northwood, OH, hung himself with a belt in his bedroom on the evening of January 11, 2019. Aaron was mocked for not having lunch or money to pay for a school lunch, mocked for his clothes (each morning he would swap his Walmart shoes for a pair of old Nikes), and the abuse spread to social media during this school year with bullies telling Aaron to kill himself.
According to Lisa Pescara-Kovach, an associate professor of educational psychology at the University of Toledo and director of the Center for Education in Targeted Violence and Suicide, some youths don't see the worth or need in putting up a fight anymore.
"They don't feel worth anything," she said. "I get so frustrated when people say kids need to defend themselves; not every kid feels good enough to defend themselves. If you"re bullied and you're suffering from depression, you're not going to defend yourself. You don't feel like you deserve to do that."
Jamari Terrell Williams, 10, took his own life on October 11, 2017 after being bullied online. "The once talkative 10-year-old, who had a smile that could light up a room, [battled] his bullies in silence." His mother, Monique Davis, noticed changes in his behavior such as "'withdrawal, wanting to change his appearance. At the time, he wasn't happy with his skin complexion. He was more to himself. He was much quieter than he normally would be.'"
In March 2018, the Alabama state legislature passed HB366, a comprehensive anti-bullying law, named after Monique's son. The Governor signed it into law in June 2018, updating the state's former policy. The Jamari Terrell Williams Student Bullying Prevention Act mandates schools follow a number of recommendations to help fight bullying not just on school grounds, but also cyberbullying and off campus threats.
Davis also founded the Jamari Terrell Williams Foundation, a non-profit dedicated to letting children know that it's okay to be different including offering a 24-hour 800 number so children and young adults can have an outlet.
Jeffrey Fehr, 18, of Sacramento, CA committed suicide on New Year's Day 2012. His parents "are convinced that a lifetime of taunts and bullying contributed to his decision to take his own life."
"We will second-guess ourselves forever," his father said. "But we do know that for years and years, people knocked him down for being different. It damaged him. It wore on him. He could never fully believe how wonderful he was, and how many people loved him."
"A bully might say something and forget about it in 10 seconds," Steve Fehr, Jeffrey's father said. "But people like Jeff never forget those words."13
Amanda Cummings, 15, of Staten Island, NY jumped in front of a bus on December 27, 2011 and died six days later on January 2, 2012. A suicide note was found in her pocket. Although police had not determined that bullying was a reason for this tragedy, her family believes it was the main cause. According to her family, bullying — both in person and on Facebook — was a significant factor in this event and that "bullies pushed the fragile young woman beyond her endurance." Per the New York Department of Education's 2010-11 survey, the citywide average of students being bullied is 67 percent.
"Criminal charges rarely result from bullying, but several teenage suicides around the country that were attributed to bullying have led many states, including New York, to force schools to develop antibullying curriculums and to take action against students who intimidate others." 14
Jamey Rodemeyer, 14, of Williamsville, NY, committed suicide on September 18, 2011 after being bullied online and at school.
"Issues of bullying and even suicide talk were not new to many of Jamey's family or friends. They were common topics for him and seemed to ramp up to an extreme level when other students started making taunts with gay references to Jamey about 12 months ago on his Formspring account, which permits anonymous posts." Some posts were supportive while others were extremely offensive.
"JAMIE IS STUPID, GAY, FAT ANND UGLY. HE MUST DIE!"
"I wouldn't care if you died. No one would. So just do it :) It would make everyone WAY more happier!"15
Phoebe Prince, 15, an Irish immigrant attending school in Massachusetts, committed suicide on January 14, 2010. According to court documents, she "endured three long months of vicious verbal and electronic attacks at the hands of three classmates before hanging herself in the stairwell of her home."
"Prosecutors say that witness accounts paint an "intolerable' campaign of insults, humiliation and, in the final days of Phoebe's life, threats...The court papers describe what investigators indicate was a pattern of abusive taunts, text messages, Facebook postings, threats, and efforts to corner Phoebe, whose reactions are described variously as fearful, panicked and distraught."16
On May 4, 2011 four classmates were sentenced to up to a year probation and 100 hours of community service work with at-risk youth in exchange for admitting criminal harassment. One classmate was found guilty of a civil rights violation.17
Kristina Arielle Calco, 15, hung herself just a few weeks before her 16th birthday.
"One blustery snowy morning in December 2005, we awoke to find that our 15 year old daughter, Kristina Calco, had abruptly ended her own life," wrote her parents.
In one IM conversation found by her parents, Kristina shared with a friend: "You should have heard what they said to me in middle school. It was awful. I felt like crying. Everyday this boy would tell me I was ugly and nasty, and then he got other people to say it too. It was torture and a living hell."
Solutions & Resources
Following are some potential solutions and resources to help solve the bully problem. But the key point is to make a plan and follow through.
After all this information about how bad bullying is, what's a parent to do? What's a child to do? Stand up to the bully/ies! Here's a checklist for your child.
Take Action...NOW!
DO SOMETHING. It's very important to do something. Don't wait around. Wishing the problem would just go away and not doing anything is unlikely to convince the bully to stop. In fact, doing nothing or a slow response only gives the bully a green light for more bullying since nobody is stopping them.
ASSERTIVE COMMUNICATION. Not passive, not aggressive — assertive — communication both verbal and non-verbal. "Assertiveness is a healthy way of defining personal boundaries. When parents teach their children the skills of assertive communication — both verbal and non-verbal — they fortify them with lifelong skills for maintaining healthy boundaries and signaling bullies that they are too powerful to be victimized."18
BODY LANGUAGE. Stand tall with the back straight and just far enough — not too close, not too far. Look directly in the bully's eye.
USE YOUR VOICE. Speak calmly, clearly, and with a firm tone. "Stop. This behavior is not acceptable." or something to that effect given the circumstances.
TARGET DENIAL. Walk away in a powerful, positive way. In other words, leave the situation — and the bully — like a boss.
Parent Checklist
This is just a start. There's even more postive action that can be done especially as a parent. Don't wait: get involved with your child sooner rather than later and learn from the bullying experience about how to stop annoying, hurtful, and even traumatic situations.
DON'T WAIT: BE QUICK, BE SMART. Ignoring the problem or waiting for something good to happen is a very long wait — for nothing. Create your own good results by doing something positive right away: loving and supporting and reassuring your child, calling the school, do something positive...right away.
BE CALM. Be a role-model of positive action rather than destructive reaction. As a parent, it's hard to not be emotional when a child may be bullied, but your child will be calmer if you, the parent, are calmer. Help remove your child's anxiety by showing a calm(er) face.
CREATE A SAFE, COMFORTABLE HOME. If a child is being bullied somewhere — school, after school, someone's house — try to make your home as safe and comfortable as possible. Allow the child to feel that home truly is a place where bad things and people are kept out. This helps set up the next item...
ASK QUESTIONS...AND LISTEN. Listen — a lot. Speak to the child about what's going on and really allow the child to speak in their own time — don't rush them. Children sometimes ask for help without asking for help. Many times, children will not speak openly about their problems because they're confused and uncomfortable. Sometimes a parent can piece together what's happening by simply engaging in conversation. Even more, talk while doing something the child enjoys to make them more comfortable and willing to chat. Let the child speak at their own pace and in their own time.
REASSURE. A typical question a child asks themselves is, "Why me?" This leads to feelings that maybe they deserve to be bullied because they've been bad. Reassure the child that they do not deserve to be bullied and they haven't done anything wrong. The bully is the one with a problem, whatever it may be.
TALK WITH SCHOOL OFFICIALS. Get in touch with the school — nurses, counselors, teachers, principals — and learn about the school's policies for bullying. Work with the school to help make school a safer, more comfortable place.
BELIEVE IN YOURSELF, BELIEVE IN YOUR CHILD. Believing that you and your child have the power to fix a problem is an important step in both stopping the bullying and any long-term negative effects from being bullied. Just belief in oneself is incredibly powerful and life-changing.
PROBLEM SOLVE...TOGETHER. Work with your child to solve the problem together. Allowing your child to take an active role in addressing the problem helps them to be a stronger person — a more self-confident person — because they're involved in taking charge of their own destiny.
Self-defense and anti-bullying strategies are key components to the curriculum of MSMAP. For children, it's a simple, three-step method:
A
"Wrong Is Wrong"
Children become familiar with the idea that sometimes "wrong is wrong."
B
Recognize & Acknowledge
Develop an awareness to recognize and acknowledge bad situations.
C
Take Action!
Take steps to remove themselves from a bad situation, effectively and appropriately.
Basic Tactics
The instructors at MSMAP emphasize and actively encourage children to routinely practice basic anti-bullying tactics. Many of these tactics are quite simple and recommended by various sources as key bully defenses including:
Quickly responding to threats in a self-assured way.
Note that neither MSMAP nor others recommend fighting as a first-line bully defense.
3 Keys for Success
Even more, the instructors of MSMAP pay close attention to helping children and parents deal effectively with teasing and bullying.
1
Develop Self-Confidence
Along with self-respect. We help children acknowledge their own self-worth relative to their peers. Children appreciate the love of their parents and family, but they also need reassurance that they can operate separate from their families.
2
Develop Effective Communication Skills
Being able to speak clear and firmly can often stop bullying behavior. When a child informs a bully that the behavior is not accepted, the bully may stop. The bully understands that the child is not a victim.
3
Other Communication Skills
And, it's not just about speaking well. Being able to stand tall, look someone in the eye, and convey resolve and determination not to be a victim makes a huge impression on stopping bullying.
Community-Based Programs
MSMAP exists to provide meaningful services to our community. One of the services is providing lessons on dealing with bullying in whatever form it takes. MSMAP follows the recommended strategy of the National Crime Prevention Council by teaching "youth violence control and problem solving, thus preventing juvenile delinquency by providing critical decision-making and life skills."NCPC
The key components of this strategy are:
Recognition by community institutions that violence is a learned behavior and that youth need specific skills to combat its influence in their lives.
Commitment from a community organization (church, youth group, recreation program) to promote violence prevention and positive decision-making and communication skills among the children involved in activities it sponsors.
Activities to encourage youth and their families to use violence prevention and communication skills in their home and community environment.
Support for these activities from local government-sponsored youth programs, area businesses, and the media.
teaches children to reject violent responses to conflict by reinforcing positive and nonviolent means for resolving disputes. This strategy can help prevent drug abuse, gang violence, sexual harassment, and other problems of violence and crime. It empowers youth with the critical thinking and decision-making skills necessary to avoid the temptation of negative influences in their community.
There is much information about bullying on the internet. These are some of them.

Beale, Andrew V. and Kimberly R. Hall. "Cyberbullying: What School Administrators (and Parents) Can Do." The Clearing House (Vol. 81, No. 1) pp. 8-12. 2007.


DeHaan, Laura, Ph.D. "Bullies". February, 1997.


DiMarco, J.E. and M.K. Newman. Identifying: Yes it is Bullying! Solutions for Bullying.

Identifying and Documenting Bullying (pdf)



DoSomething.org "11 Facts About Cyber Bullying"

Dombeck, Mark, Ph.D. "The Long Term Effects of Bullying." MentalHealth.net Updated: July 24, 2007.

Education.com. "Bullying and Teasing: No Laughing Matter"

Flegenheimer, Matt. "Accusations of Bullying After Death of Teenager" The New York Times January 3, 2012.

Hubert, Cynthia. "Granite Bay teen who committed suicide was bullied for being gay" The Sacramento Bee. January 15, 2012.

Khadaroo, Stacy Teicher. "Phoebe Prince bullies sentenced, but how do they make things right?" The Christian Science Monitor. May 5, 2011.

Kravets, Lauren. "Bullying in the Stateline: One Student's Story" WIFR.com. Aug 10, 2011.

Lereya, Suzet Tanya, PhD, William E. Copeland, PhD, Prof E. Jane Costello, PhD, Prof Dieter Wolke, PhD. "Adult mental health consequences of peer bullying and maltreatment in childhood: two cohorts in two countries" The Lancet Psychiatry. Published Online: 28 April 2015.

Miller, Carlin DeGuerin. "Phoebe Prince's Final Days: Bullied Girl Suffered 'Intolerable' Abuse Before Suicide, Say Court Docs" CBS News. April 9, 2010.

National Crime Prevention Council. Strategy: Violence Prevention And Problem Solving Education For Children

Perets, Abbi. Six ways to keep teenagers safe online Macworld. August 30, 2013.

Pulido, Mary L., PH.D. Is My Child Being Bullied? Action Steps for Parents The Huffington Post January 12, 2012.

Tan, Sandra. "Teenager struggled with bullying before taking his life" Buffalo News. September 20, 2011

Throckmorton, Warren, PhD Bullying Prevention Information: Resources for Schools. 2005

Townsend-Butterworth, Diana. "Teasing and Bullying: No Laughing Matter: What you must know – even if you don't think it affects your child" Scholastic Parents

van der Zande, Irene. "Face Bullying With Confidence: Eight Kidpower Skills We Can Use Right Away" KidPower.org. April 12, 2012.

Whitson, Signe, L.S.W. "Essential Strategies for Bullyproofing Your Child This School Year" Psychology Today. September 15, 2011

Not Cool to be Cruel. http://notcooltobecruel.com/why_do_people_bully.htm