2014 Black Belt Exam
---
Mount Shasta Youth Earns Black Belt
Published: Wednesday, June 25, 2014
(NOTE: This article is reprinted with the kind permission of the MS Area Newspapers, www.MtShastaNews.com)
---
Six years of dedicated training paid off for Vitaliy Tveritin, 13, when he took his black belt exam at UC Berkeley on May 3. He waited weeks before receiving his black belt on May 30 at the Siskiyou Arts Bus Open House at the Mount Shasta library.
| | | |
| --- | --- | --- |
| | | |
| Cat Stance & Techniques | | Front Stance & Techniques |
A Tough Audience...and Grading Panel
For his exam, Vitaliy had to demonstrate advanced skills for strikes, kicks, forms, board breaks, sparring, and self-defense. It wasn't easy. He faced US national collegiate champion and the world university bronze-medalist Yessica Wiryawan in full-contact sparring, according to Mount Shasta Martial Arts Program executive director Chuck Buhs, who is a 6th degree black belt.
In addition to Buhs, several high-ranking black belts sat on the grading panel including 7th degree black belt Dr. Russell Ahn, the director of UCMAP, and other 5th and 4th degree black belts.
| | | |
| --- | --- | --- |
| | | |
| Basic Techniques Across The Room | | Paddle Kicking |

"Vitaliy stepped up and did an outstanding job," said Buhs. "This was an intimidating situation because the pressure to be at his best was pretty intense. However, he managed to keep his anxiety in-check. Several of the black belts later told me how impressed they were with Vitaliy's composure and maturity and were surprised to learn he is as young as he is. When a group like this notices both his skills and poise, it speaks volumes about Vitaliy's strength of character."
Vitaliy is just the fourth — and youngest — MSMAP student to earn a black belt since the program started in 2001.
"It takes a lot of preparation," said Vitaliy. "This was a huge commitment, a real honor, and a very big responsibility. I learned I must be really focused. This took so much support from my family, instructor, and teammates. I really appreciate that!"
"This was definitely a challenge for him," said Vitaliy's mother, Olga. "Vitaliy learned a lot especially about how planning ahead is necessary to accomplish something this big. It's such a big relief that it's done."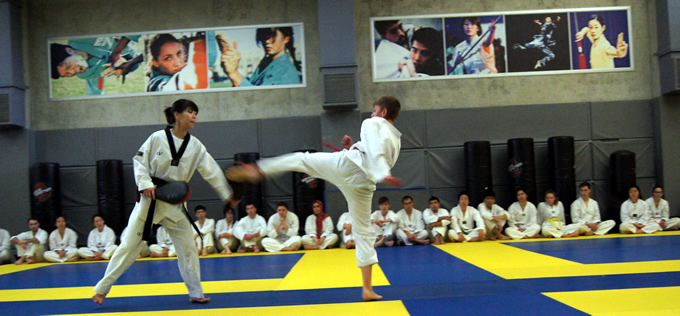 ALL EYES ARE ON HIM. Vitaliy's exam was the only black belt exam on a fine spring morning. A roomful of children, college students, and professionals watched as he performed a variety of skills.
The Importance of Community Service
"It wasn't a coincidence giving Vitaliy his belt at the open house," points out Buhs. "Volunteerism and community service are essential parts of what our program is all about. By volunteering at events that benefit the Senior Meal Program run by City Park such as our annual holiday food drive in December and celebration of Korean Thanksgiving in the fall, Vitaliy puts his training into practice both as a leader and contributing member of our community."
"At my taekwondo classes, I learned something new: everyone should help each other no matter how wealthy or how strong they are," explained Vitaliy. "There are always people around us who need help. By sharing our goodwill, all of the MSMAP participants learn how people should help each other and be generous to others. When someone needs help, no matter what the cause is, they shouldn't just carelessly walk away like nothing happened but step up and act."

Black Belt in Taekwondo, Black Belt in the Classroom
Vitaliy's goodwill also extends into the classroom.
Dave Schmidt, Language Arts and History teacher at Sisson Elementary School, observed Vitaliy's leadership skills in action when partnered with a struggling student.
"Besides the hard work and commitment to achievement, Vitaliy goes out of his way to be a positive member of our classroom. Vitaliy handled this challenge with grace and without complaint — just he as does on all challenges — and was successful in helping his partner have the best grade of the year."
Schmidt's sentiments are echoed by Kale Riccomini, principal at Sisson Middle School.
"Vitaliy is a very focused and motivated young man," said Riccomini. "Whatever the task he always gives 100% until the task is completed. The one trait that I've always admired in Vitaliy is how polite and courteous he is to his peers and adults."
| | | |
| --- | --- | --- |
| | | |
| Under the Microscope / Steady as a Rock | | Lining Up for Board Breaking |
The Best Part
When asked about the best part of his exam, Buhs and Vitaliy both agreed that it was his board breaks.
"This kid did some really cool things," said Buhs. "He did a flying back kick where he had to run, jump in the air, and kick with his back facing the board. It was awesome!"
"I felt a surge of power after the breaks," added Vitaliy. "I had a mental block about breaking real wooden boards, but my martial spirit pushed me through. All I was thinking about was making toothpicks."

More Information
MSMAP, a 501(c)(3) non-profit providing positive activities for youth, adults, and families in our area. They are located at 612-A S. Mt. Shasta Blvd.. More information can be found on their website at www.MtShastaMA.org, email ( ), phone ( 530.859.2024 ), and on Facebook (MSMAP on Facebook).

Go to: 2014: Mount Shasta Youth Earns Black Belt (MS Area Newspapers)
Go to: 2014: Local Mother and 3 Children Take Taekwondo Exam (MS Area Newspapers)
Go to: 2013: Taking A Next Step (MS Area Newspapers)
Go to: 2012: Kids Move Up After Martial Arts Exam (MS Area Newspapers)
Go to: 2011: WHS Sophomore's Growth Seen in Successful Black Belt Test (MS Area Newspapers)
Go to: 2010: Martial Arts Promotion Exam Was A Test of Children's Skills (MS Area Newspapers)
Go to: 2006: International Martial Arts Summer Camp (MS Area Newspapers)

Go to: What is Taekwondo?

---