Preparation Pays Off for Teens in Awarding of Taekwondo Black Belts
Jun 27, 2018
After several years of dedicated training, two local teens were awarded their taekwondo black belts through the Mount Shasta Martial Arts Program on June 14. Riley Witherell, 18, promoted to 1st dan black belt and Vitaliy Tveritin, 17, moved up to 2nd degree black belt. They joined Crystal Coulter-Nava and Joe Alva (1 dan in 2006), Griffin Hough (1 dan in 2010), Master Chuck Buhs (6 dan in 2013), and Dr. Peter Halt (4 dan in 2018) as MSMAP black belt recipients.
"Riley and Vitaliy had fantastic exams in front of several dozen spectators and martial artists at UC Berkeley," said Chuck Buhs, MSMAP Executive Director and Head Instructor. "It's especially exciting because all the planning and effort preparing for this opportunity clearly showed as they demonstrated a variety of skills including kicks, strikes, blocks, stances, forms, and board breaks along with sport and self-defense sparring."
Preparation Pays Off
"A number of high level black belts — 4, 5, 8 degrees — who graded and watched their exam were very impressed," continued Buhs, a 6 degree black belt. "Vitaliy did a split-kick board break where he jumped up in the air and broke two boards simultaneously while Riley showed a variety of strikes with her hands and elbows mixed with kicks and broken timing on the heavy bag. Their most impressive demonstration was the prearranged sparring portion where they had to defend themselves against different attacks. They had to go 'all out' while still controlling their techniques and power without actually hurting each other."
Although Riley has been training steadily since 2012, she was still "extremely nervous" on the morning prior to the exam held on April 28.
"Mentally, I was freaking out thinking about everything that could go wrong: not breaking boards, forgetting my forms, messing up a one-step and hurting Vitaliy, forgetting every combination for the bags and just standing like a deer in the headlights" Riley explained. "Physically, though, I was pretty calm. I recognized that this was a much bigger deal than anything I've ever done before. Knowing that there was a Grandmaster there really made me up my game [Dr. Ken Min, 9 dan and founder of UCMAP, was in attendance]. I knew I had to do my absolute best. There was no tomorrow after that exam, and I had to make it worth it."
Although this year marks a full decade of taekwondo training and is his second black belt exam since 2014, it was still a unique experience for Vitaliy.
"It's weird because I feel so much relief and satisfaction," said Vitaliy. "This is the biggest project of my life. I never put in this much time, work, and dedication involving so many people and never felt as many emotions about anything else. There was just so much on the line, so much time and so much of our lives invested. Reaching this goal is surreal."
Power of Perseverance
"Riley's and Vitaliy's accomplishments are no accident," according to Buhs. "Their planning, setting priorities, hard work, and sacrifice made it happen. And while this process reinforced valuable characteristics like commitment and persistence, these teens also received a basic, yet powerful, lesson about simply not quitting. Although success can sometimes happen just by showing up, much, much more was required to succeed at this level. Riley and Vitaliy had to be on the mat again and again and again, for years and years. This kind of dedication requires an incredible amount of self-discipline and determination. And, it's all the more impressive in teenagers with so many varied interests to challenge their attention and time."
"I wanted to quit a few times," admitted Riley. "But, I had worked so hard and dedicated so much time to this that it just wasn't worth giving up. Although I had to miss out on performing in a stage show or two and passed on a majority of social gatherings because of taekwondo, I'll have more opportunities for shows in the future. But, a black belt exam — at U.C. Berkeley no less — is something that really doesn't happen often. There's 7.6 billion people in the world and only 9 million have a black belt. Just having the opportunity to be a part of that is amazing."
"The whole process was very intense," agreed Vitaliy. "I put other extracurricular activities and sports aside to train and commit to this exam. It made me more grateful for my parents, instructor, and training partners for their incredible dedication and support. There are always going to be reasons to not do something that's difficult. But, quite frankly, saying 'yes' will show you the many reasons why it is so awesome. Still, it's a big relief to be done."
Their families agreed that taekwondo training is a transformative activity.
"I am beyond proud of the long road with endless challenges that she had to go through to reach this goal," shared Riley's father, Brian. "The fact that it leads to 2nd dan, 3rd dan, and more keeps Riley on a track of challenges for her to meet and continue training and growing. The friendships and relationships she has made in and outside of Mount Shasta reaching from Berkeley to Boise to the East Coast is amazing."
Vitaliy added that "it's difficult to translate from Russian, but my Grandmother says that taekwondo is much more special and elicits much more of who I am. Unlike soccer and other team sports, success or failure in taekwondo is all on my shoulders and directly shows if I've prepared well or not."
"I am happy that Vitaliy showed persistence and commitment to the program and his personal goals," said Vitaliy's mother, Olga.
Why UC Berkeley?
Buhs explained that MSMAP arranges "our black belt exams through the program at UC Berkeley because my instructor, Dr. Ken Min [9 dan], the founder of UCMAP in 1969, established an integrative process that requires people to not only work harder but also work smarter. In addition to the physical training, black belt candidates like Riley and Vitaliy are certified in first aid and CPR, write book reports, and submit an original 12-page research paper. After nearly 50 years, Cal sets a very high bar of excellence."
Vitaliy elaborated that "the thought of testing at Cal, a much bigger and more prestigious program than MSMAP, added a lot more intensity to the exam, but at the same time it made the experience all the more special in a way. It triggered something that forced me to step up my game. Testing in the presence of so many other black belts, master instructors, and grandmaster, Dr. Min, really made me feel the importance of this exam."
"These people have been through a lot of training and have a lot of experience," continued Vitaliy. "As an ordinary teenager, that doesn't sound like too big of a deal until you actually go down there and are in front of all those people. That's when I realized the significance of where I was and what I was doing, which was working my way up through the ranks to be closer to all of the highly respected instructors and masters at Cal."
"Good grades are expected at Cal," Riley added. "After seeing my research paper, three other GECS students asked me to help outline and edit their papers. I learned statistics!"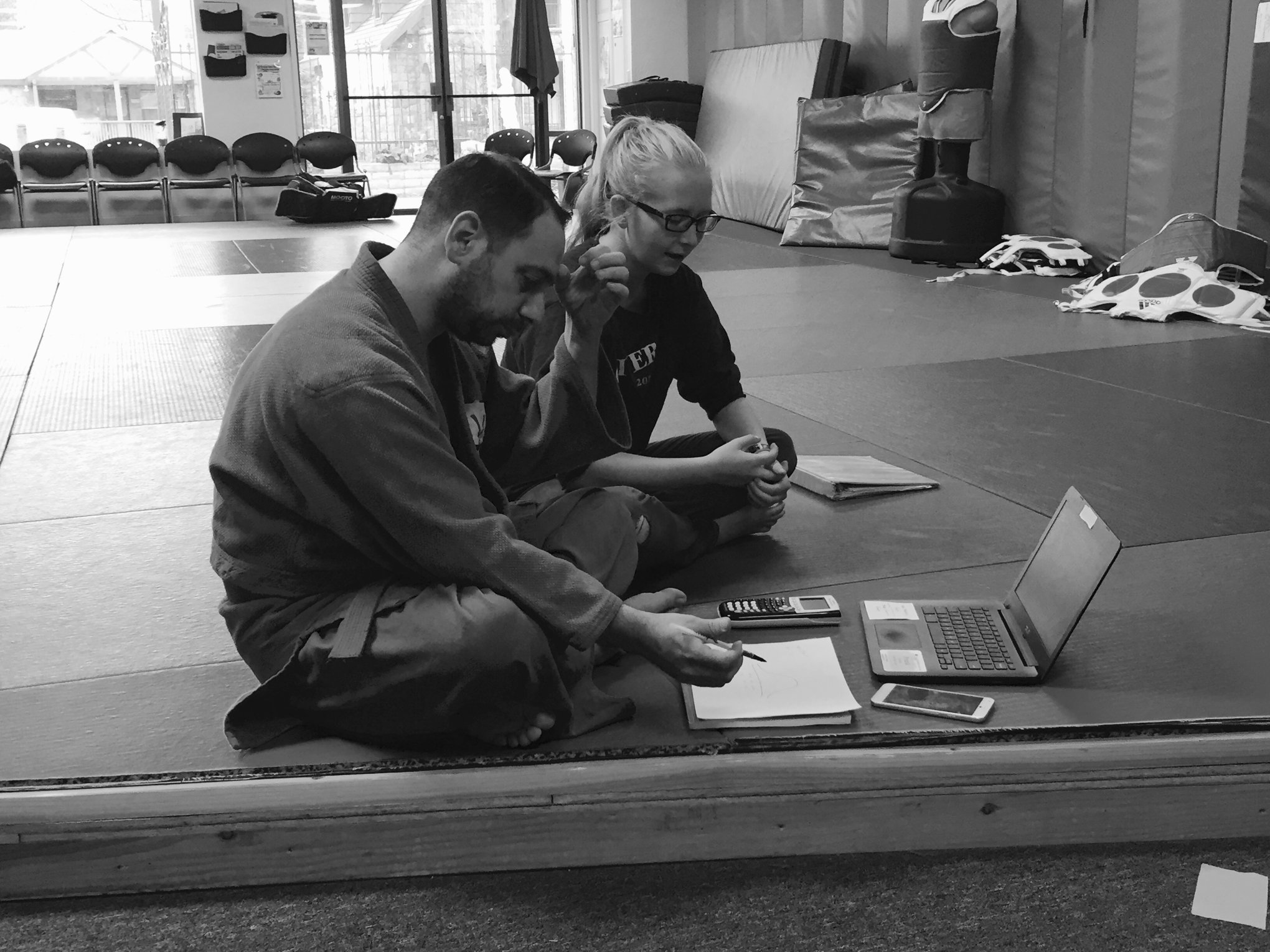 ABOVE: Professor Frank Cortese works with Riley as they analyze the data for her research paper. Following guidelines established by Dr. Min at Cal, Riley follows an integrative process that requires people to not only work harder but also smarter. Essential for any effective leader.
BELOW: Statistics 101.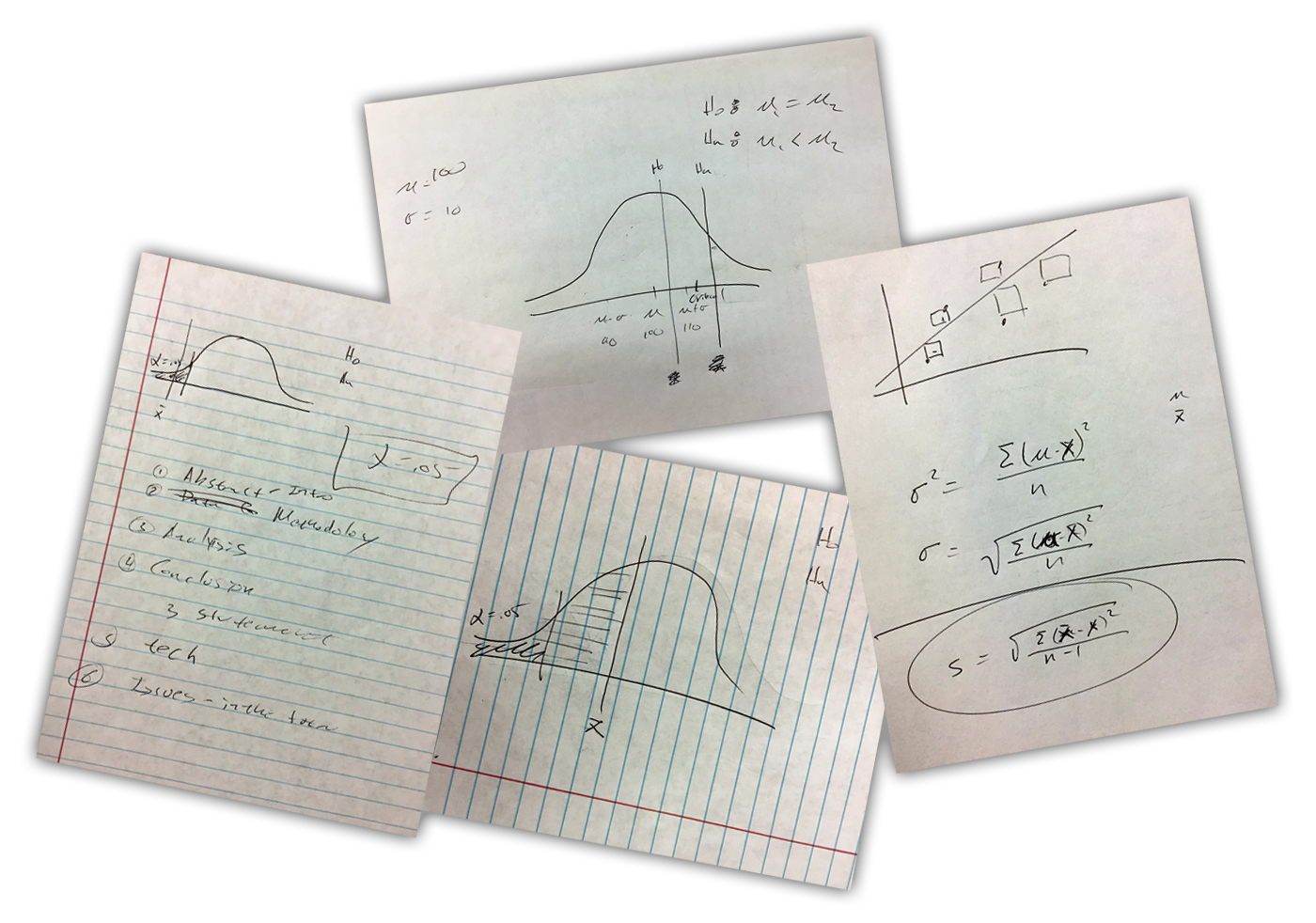 In The Classroom
Shelley Young, a teacher at Golden Eagle Charter School, observes that "Riley [a recent GECS high school graduate] is multi-talented and often has numerous activities going at once such as drama, band, martial arts, teaching and tutoring younger students, taking COS courses in addition to her high school courses, high school project, and more. Although this affects the quality of her work as well as compromising her ability to complete things on time, Riley fascinates me with her enthusiasm and excitement for life in general and wanting to try everything at once. I don't think she has a slow speed. Such a tiny kid with so much power — she is amazing!"
For Jeff Westcott, Vitaliy's history teacher at Mount Shasta High School, "Vitaliy is one of the best students I have ever had. He approaches his studies with great vigor. He brings a seriousness and inquisitiveness to the classroom that raises the bar for all students. He also brings a wonderful balance to the class, a balance between the discipline that it takes to do serious inquiry and the warmth, kindness, and respect for others that makes a seminar-type class work. He is always on time, always brings excellent work, and brings an intellectual acumen that changes the class dynamic. He listens very well to others and engages in a kind of critical debate that empowers other people."
"I have no doubt that martial arts training has been an important part of how Vitaliy has developed his positive attitude," Westcott continued. "When I see Vitaliy interact with students and teachers I am struck by respectful and engaged he is. I have no doubt that he fits right in at U.C. Berkeley when he stands in front of doctors, lawyers, and other professionals. Vitaliy already has the attitude, self-confidence, work ethic, and humility that it takes to succeed in great tasks."
Tomorrow's Leaders
When asked why they kept at it, Riley, Vitaliy, and their parents offered some interesting insights.
"This is huge for me," explained Riley, "The payoff is knowing that I did something that I had to work for. A lot of people think of me as a girl who gets everything I want just because I want it, that I don't have to work or try for anything, and everything just appears as I will it. In part, this accomplishment was to show people that I'm not a prissy brat. It was also to prove that I can reach goals through hard work, dedication, and persistence."
"There is probably more payoff from this exam and going for a 2nd dan than I understand right now," added Vitaliy. "This process has opened my eyes about the importance and true feeling about being a black belt because of the sacrifice."
"All the great experiences he had and wonderful people he had a privilege to meet helped to build his character and develop valuable skills like self-discipline, commitment, persistence, and respect," Olga shared. "We are very happy and thankful that our kids have a privilege to train with MSMAP!"
Riley's father, Brian, notes that "taekwondo has opened up many doors for Riley including maturity and leadership, physical accomplishments, and involvement in the community. Taekwondo and the journey to her black belt has built incredible personal confidence, core strength, leadership, and excellent critical thinking and decision-making skills."
"It's an honor working with these two dedicated, goal-oriented teens over the years," said Buhs. "Witnessing them grow up on and off the mat into confident, responsible individuals is something truly special. Their grace and composure shines through in a variety of situations. But, their growth is less about someone telling them what to do and much more about what choices they've decided to make along the way to becoming the people they are today."
"MSMAP offers a somewhat unorthodox environment for martial arts training, mixing traditional martial arts core values with modern sensibilities," Buhs continued. "One example of this is encouraging students to assertively — rather than aggressively — express their unique individuality by speaking their minds with confidence and clarity. Riley and Vitaliy are perfect examples of how long-term participation in our non-profit program can provide so many benefits and help develop responsible leaders of the future."
Learn More
Black Belt Exams
Taekwondo Exams
Go to:
What is Taekwondo?
MSMAP is a 501(c)(3) non-profit providing empowering activities for youth, adults, and families since 2001. MSMAP has moved completely online during the COVID-19 pandemic. There are a variety of activities being offered through Zoom. For more information, contact us via email, phone, Facebook, and on the web.