2009 UC Open Action
---
Two Children Win Taekwondo Gold In Their First Tournament
Published: Wednesday, June 10, 2009
(NOTE: This article is reprinted with the kind permission of the MS Area Newspapers, www.MtShastaNews.com)
---
Two members of the Mount Shasta Martial Arts Program won gold medals at the 40th UC Open Taekwondo Championships at UC Berkeley on May 30.
Orion Alley, age 8, won first place in forms, and Griffin Hough, age 14, won second place in forms and first place in sparring at the largest taekwondo tournament in the western states.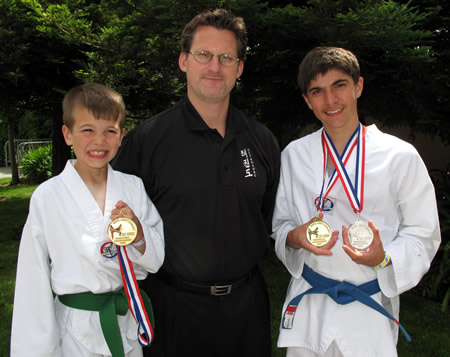 Orion Alley, left, and Griffin Hough, right, stand with their coach Chuck Buhs and the medals they won May 30 at the 40th US Open Taekwondo Championships at UC Berkeley.
Exciting Action
"Alley was in a tight competition. He had to perform prearranged movements of kicks and punches in front of black belt judges to win his division by 1/10th of a point" said MSMAP head instructor and coach Chuck Buhs.
Hough, comfortable sparring full-contact with kicks and punches to the body and controlled kicks to the head while wearing protective gear, was far more concerned about the forms competition.
Hough's mother Jeanne was not surprised by the results as much as by Griffin's confidence.
"I saw the results of his training at more levels than just his physical skills. Griffin was focused and maintained his composure even with all the recent pressure of graduation from Weed Junior High School and travel, not to mention the hundreds of competitors and spectators in attendance," said Jeanne.
"I can't wait to go back next year!" said Griffin.

Golden Moment
Steve Alley, Orion's father, said, "It was awesome, a great experience. Orion came back home a much better guy and now understands what training really means."
Already extremely enthusiastic, Orion, a student at Mount Shasta Elementary School, is now highly motivated to continue training.
"I want to go to the Olympics, Dad," said Orion.
Upon seeing Alley with the gold medal draped around his neck, Dr. Ken Min, founder of the UC Berkeley martial arts program and 9th degree black belt, said, "Not only are you good looking, but now you're shining!"

What does it mean?
Instructor Buhs said he was very pleased with both Alley and Hough.
"Orion and Griffin have worked very hard over the past several years and they were amazing," Buhs said. "They demonstrated true martial arts spirit in their first tournament experience – doing their best with good manners.
"The medal results are less important than what they learn and how much they grow as individuals. This is a huge competition, and they responded to the challenge with incredible determination and confidence," added Buhs. The Mount Shasta Martial Arts Program, according to Buhs, is a local non-profit enriching lives by providing instruction in the martial arts of taekwondo and yongmudo.
Instructional workouts are available for children, teens and adults in Mount Shasta and surrounding communities. More information is available on their website, www.MtShastaMA.org


Read more: Other articles about MSMAP's successful competition experiences.
Go to: 2017 UC Open Taekwondo & Yongmudo Championships
Go to: 2016 UC Open Taekwondo & Yongmudo Championships
Go to: 2014 UC Open Taekwondo Championships
Go to: 2013 UC Open Taekwondo Championships
Go to: 2012 UC Yongmudo Championships
Go to: 2012 UC Open Taekwondo Championships
Go to: 2011 UC Yongmudo Championships
Go to: 2011 UC Open Taekwondo Championships
Go to: 2010 UC Open Taekwondo & Yongmudo Championships
Go to: 2009 UC Open Taekwondo Championships

Learn more about Taekwondo Competition:
Go to: UC Open Information
Go to: Taekwondo Competition
---