2011 UC Open Taekwondo Action
---
Local Families Win At Taekwondo Tournament
Published: Wednesday, May 4, 2011
(NOTE: This article is reprinted with the kind permission of the MS Area Newspapers, www.MtShastaNews.com)
---
Siskiyou County was well-represented at the West Coast's largest and longest running taekwondo tournament, the 42nd UC Open Taekwondo Championships, on Saturday, April 23. Eight people from six families participated in forms (pre-arranged movements) and full-contact sparring competitions.
The group brought home 11 medals: three gold, seven silver, and one bronze.
Team MSMAP

Gold Medal Form

Battle for Gold

Waiting Patiently

INTENSE ACTION.

MSMAP's largest team ever to compete at the UC Open had an eventful day of intense action.
"Everyone did an outstanding job," said Chuck Buhs, head coach of the MSMAP team. "The way each individual met their respective challenges was a thrill. They impressed other competitors and master instructors with their skill, determination, and martial arts etiquette."

Orion Wins Gold...In Sparring!
Orion Alley, 10, had two dramatic competitions. For the first time, Orion did not win a gold medal in his specialty, forms. After taking second place, he shrugged off the disappointment and entered the sparring competition with much determination.
| | | |
| --- | --- | --- |
| | | |
| Harmon Arena | Battle for Gold | Hard Work Well Rewarded |
In his first match, Orion was ahead on points when the referee stopped the match with 15 seconds remaining due to complications with the wireless hand-held scoring devices. After a long delay and replacement of six devices, Orion proceeded to score points with a variety of perfectly timed front kicks before winning the match for an unofficial second time. By outscoring the forms champion in his final match, Orion earned his very first gold medal in sparring.

After watching her older brother the past two years,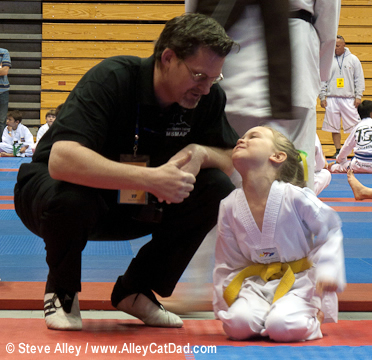 Harley-Grace Alley, 7, had nervous tears before her first forms competition and joyful tears after winning a silver medal.

Vitaly Tveritin, 10, won silver in forms to go along with his silver in sparring.

Griffin Hough, 16, was busy in the teen black belt divisions. After winning silver in forms with an outstanding display of balanced, precise technique, Griffin faced a very strong, fast opponent in sparring. Griffin matched jumping back and spin hook kicks with a flurry of double body and head kicks. Tied at 7 after the first round, both competitors continued to impress the crowd with their intensity until Griffin was caught with a hard kick to the nose dramatically ending an exciting battle.
| | | | |
| --- | --- | --- | --- |
| | | | |
| Sparring Action | Solid & Steady | Father & son | Silver Medal Form |
All In The Family
Family support and enthusiasm helped all the competitors.
MSMAP's father/son team of Kevin, 38, and Kyle, 10, enjoyed sharing the competition experience. Although Kyle was slowed by a recent illness and only competed in forms, he was thrilled with his father's sparring match and winning silver in forms.
The Winters brothers, each won two medals — Ross, 10, gold in forms after a nail-biting tie-breaker and silver in sparring; Will, 8, gold in sparring and bronze in forms.
"This event really opened their eyes and broadened their perspectives," said Ross and Will's mother, Canada Ross. "They learned about how it can be intimidating and overwhelming to be in front of a large audience and to focus on the task at hand. Plus, they really enjoyed comparing their skills with other children from around the state and seeing that their hard work is paying off."

Read more: Other articles about MSMAP's successful competition experiences.
Go to: 2017 UC Open Taekwondo & Yongmudo Championships
Go to: 2016 UC Open Taekwondo & Yongmudo Championships
Go to: 2014 UC Open Taekwondo Championships
Go to: 2013 UC Open Taekwondo Championships
Go to: 2012 UC Yongmudo Championships
Go to: 2012 UC Open Taekwondo Championships
Go to: 2011 UC Yongmudo Championships
Go to: 2011 UC Open Taekwondo Championships
Go to: 2010 UC Open Taekwondo & Yongmudo Championships
Go to: 2009 UC Open Taekwondo Championships

Learn more about Taekwondo Competition:
Go to: UC Open Information
Go to: Taekwondo Competition
---